Overpour Monday with Layne Gray on President's Day
| | |
| --- | --- |
| Date: | Mon, Feb 18, 2019 |
| Time | 5:00 PM to 8:00 PM |
| Venue: | Cultivar San Francisco 2379 Chestnut Street, San Francisco |
| Contact: | Nick |
| Phone: | 415-962-4200 |
| Email: | info@cultivarsf.com |
Join us for the first ever Overpour Monday, February 18th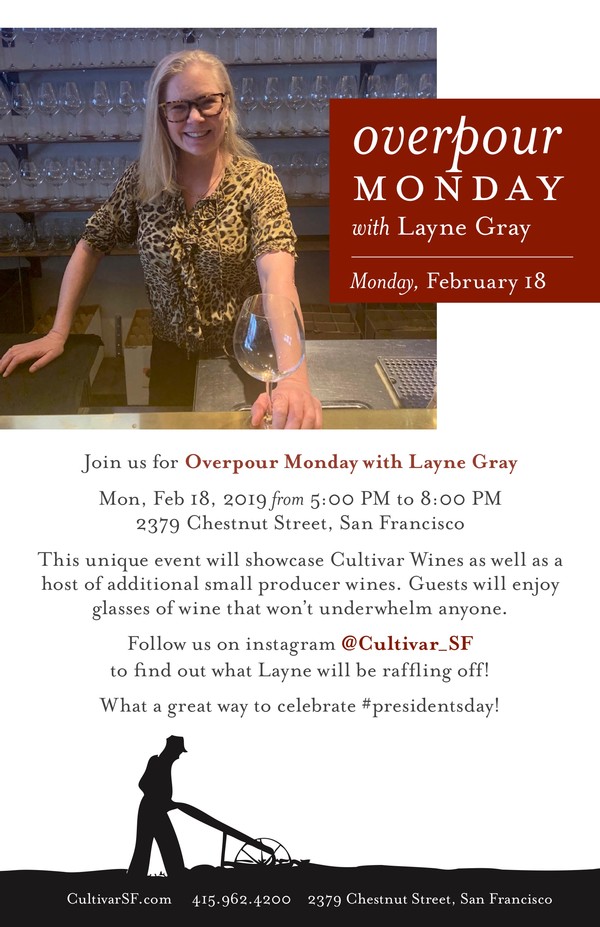 Layne Gray
Investor and self-proclaimed wine expert Layne says she really understands the nuances between a Chardonnay and White Burgundy (suffice it to say she likes both and, basically, seems to have rarely met a wine she didn't like). What she doesn't appreciate is going into some random wine bar and being poured a less-than-satisfying portion of wine that the bartender has deemed more than enough for the honor of paying Neiman's prices for H&M quality (and not to be paranoid but she claims men get larger pours than women and has threatened to conduct a survey; we're not exactly sure how she'd go about validating that hypothesis but we are concerned it may alienate pretty much every male in the U.S.).
Out of that 'expertise' grew Layne's idea of Over-pour Mondays - give Cultivar San Francisco patrons a reasonable fill of high-quality wine at amazing prices, something Cultivar can address on both fronts. Layne will be guest-bartending on February 18th to kick-off Over-pour Mondays.
We look forward to seeing you!